G.E.M.S Show July 2015
---
Pictures from the show: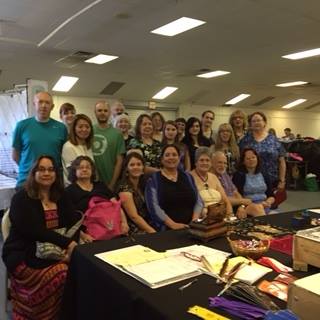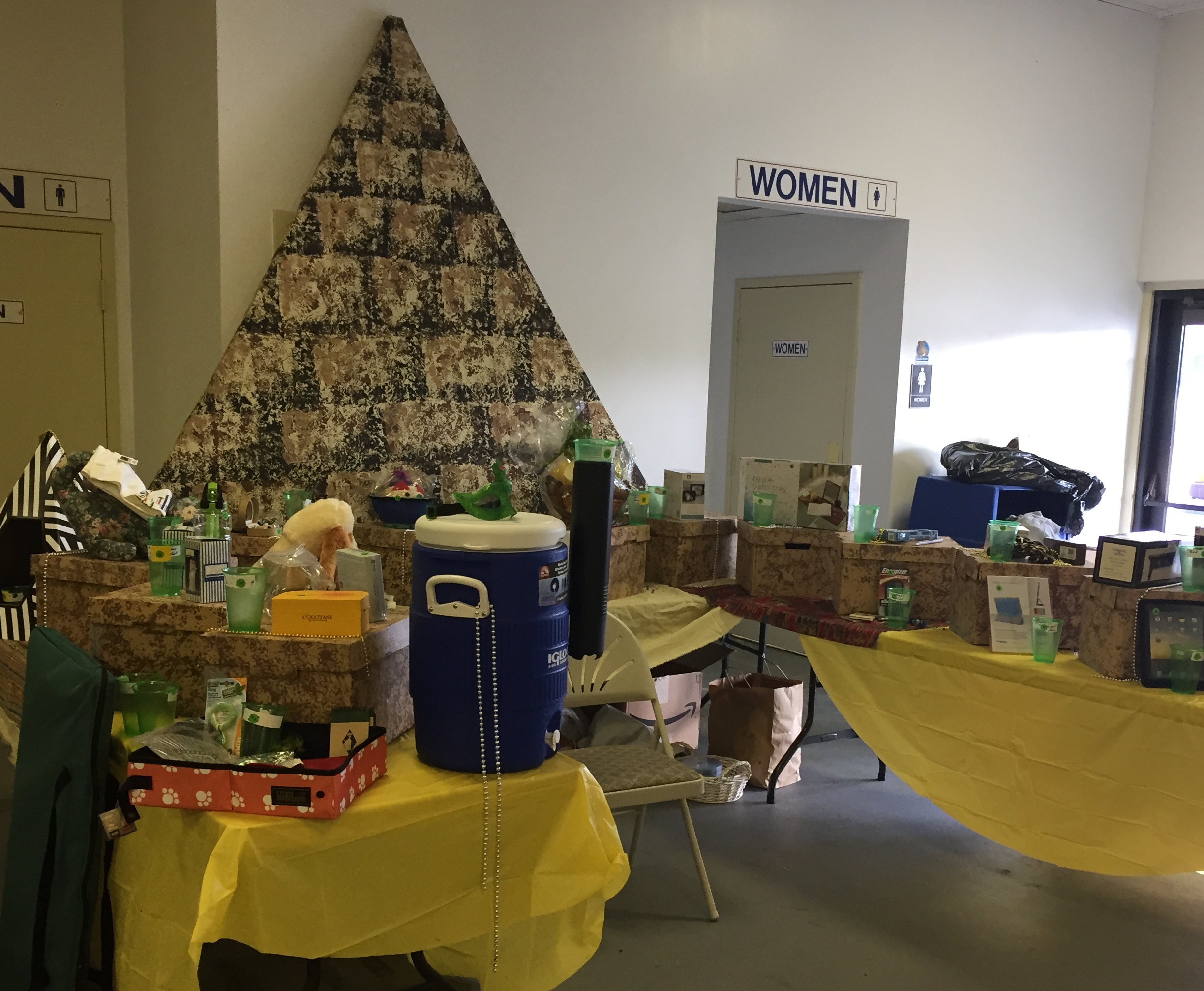 Egyptian Mau Breeders and Fanciers Raffle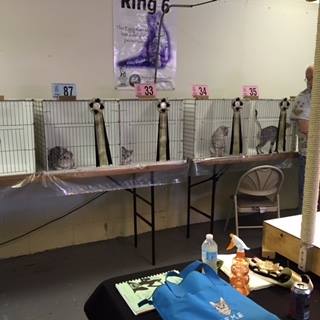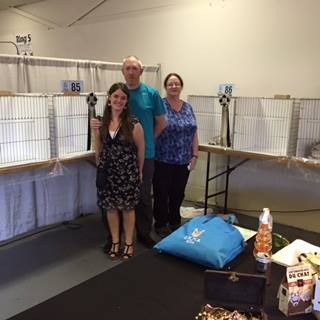 Best of the Best Ceremony The proud owners...
G.E.M.S.' Allbreed Show - Richmond, VA July 25, 2015

Judges (in order from left to right):
Jogn Colilla - Allbreed
Bob Goltzer - Allbreed
Sharon Roy - Allbreed
Jan Stevens - Allbreed
Liz Watson- Allbreed
Melanie Morgan - Specialty


There were 26 Egyptian Maus entered and competing, with 8 of 9 regions represented.

Egyptian Mau results:

Best of the Best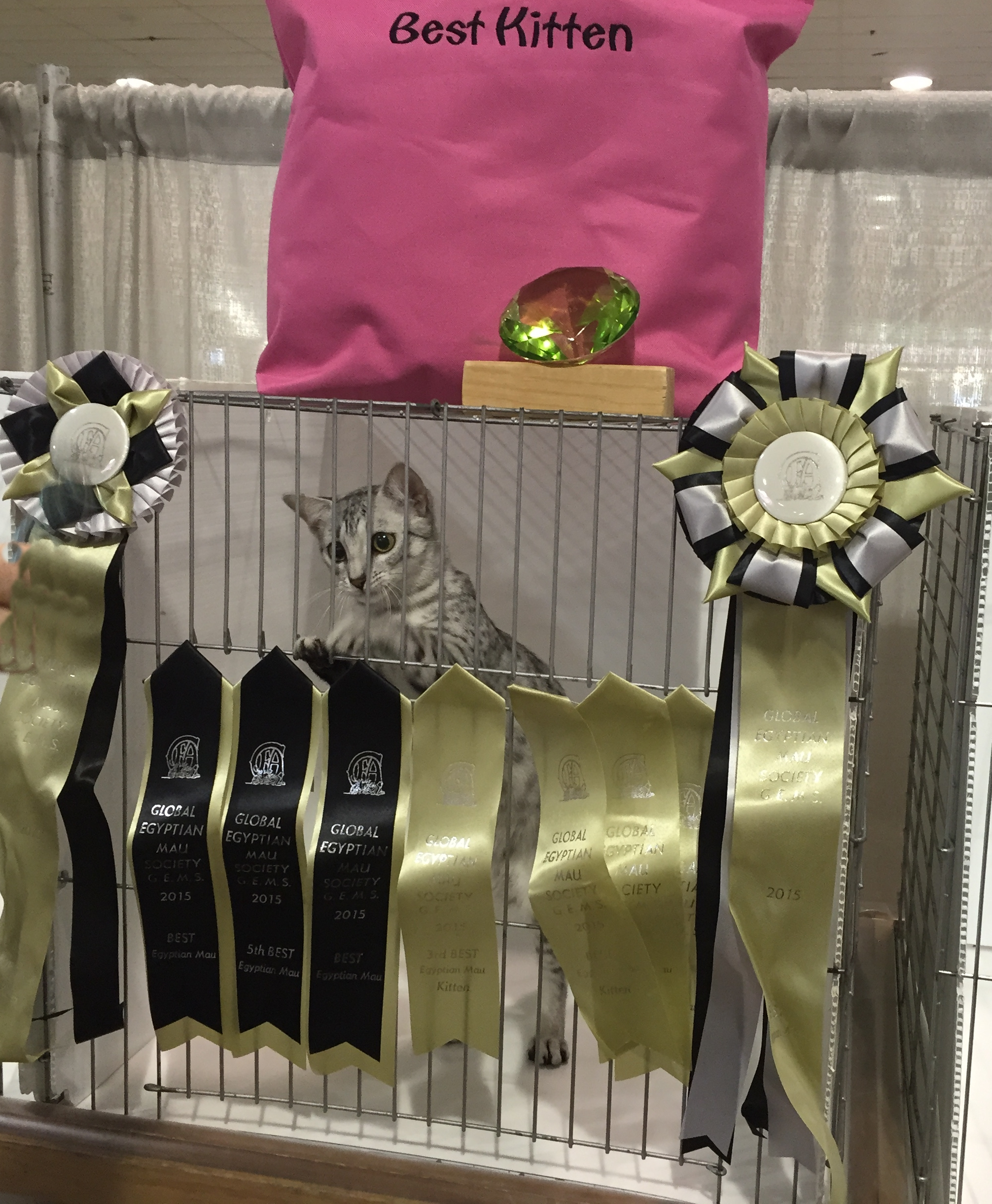 Kitten: Emau's Strike a Pose of Emauge (AKA Jade)--Silver female bred by Melanie Morgan and owned by Tim Fowler
Jade was highest scoring Egyptian Mau out of 26 cats competing and 11 of them being grands!
Championship:
Best Egyptian Mau in Championship:
GC, BW, NW Emauge De Beers (AKA DB)--Silver male breed and owned by Tim Fowler and Pat Summers
2nd Best Egyptian Mau in Championship:
NOW GC Vaernam Finwe (AKA Finwe)-- Silver male bred and owned by Johan Soetens and Delphine D'Heygers
3rd Best Egyptian Mau in Championship:
GC Mautrix Solar Eclipse (AKA Clipper)-- Silver male bred and owned by Laurie Coughlan


Kittens:
Best Egyptian Mau Kitten:
Emau's Stike a Pose of Emauge (AKA Jade)--Silver female bred by Melanie Morgan and owned by Tim Fowler
2nd Best Egyptian Mau Kitten:
Emau's Covergirl of Emauge (AKA Jewel)--Silver female bred by Melanie Morgan and owned by Tim Fowler
3rd Best Egyptian Mau Kitten:
Vaernam Nienna (now of Maujik)(AKA Nienna)-- Silver female bred by Johan Soetens and Delphine D'Heygers and now owned by Sheila Osborne


Premiership:
Best Egyptian Mau in Premiership:
GP Mautrix Saladin (AKA Saladin)-- Silver neuter bred by Laurie Coughlan and owned by Laurie Coughlan and Parker Sutton
2nd Best Egyptian Mau in Premiership:
GP Giles Emaus Olabisi of Maujik (AKA Bisi)-- Smoke spay bred by Debra and Leonard Giles and owned by Shiela Osborne
3rd Best Egyptian Mau in Premiership:
GP Emau's Promise the Moon (AKA Sterling)-- Silver neuter bred by Melanie Morgan and owned by Linda Nulph